SCULLY'S BABY
Sunday, May 20, 2001 on The X-Files, Agent Scully gave birth to a healthy baby boy. She named him William, after Mulder's father, and he turned out to be a normal infant and not some "more human than human" baby that everyone thought he was going to be. Once the replacement aliens found this out, they didn't try to kill him, although that had been their original plan.
APOCALYPSE HOW?
WHAT QUESTIONS STILL REMAIN?
CHRIS CARTER:
"What the aliens are up to, what their ultimate purpose is, when they're coming, and what they're doing now that the conspiracy has broken down. What are their alliances? Is there any involvement with them by humans? Also, what is this other race of aliens [i.e., the other renegades with the sewnup eyes and mouths] up to, and what is their connection with the greys [the other dominant alien faction]?"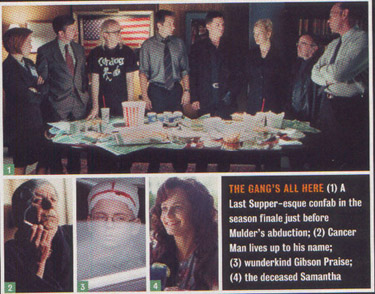 (((Excerpts taken from a recently published article in Entertainment Weekly)))